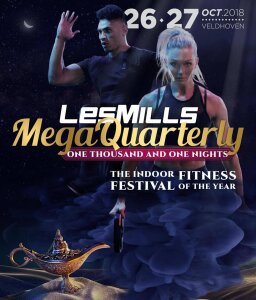 Je hoeft geen Les Mills instructeur te zijn om deel te nemen aan het Megakwartaal, iedereen is welkom! Are you in?
Locatie: Veldhoven, Nederland.
Datum: 26 & 27 oktober 2018
Bestel je ticket(s) en meer op: www.megakwartaal.nl
Thema: 1001 Nights
International Presenters:
Emma Barry (Les Mills International), Ben Main (Les Mills International), Bevan James Eyles<com/span> (Les Mills International), Bas Hollander (Les Mills Japan) en Isabell Schruf (Les Mills Germany).
Les Mills Netherlands/Belgium Program Coaches and National Trainers and Trainnees will be there.